Fall Décor Times Three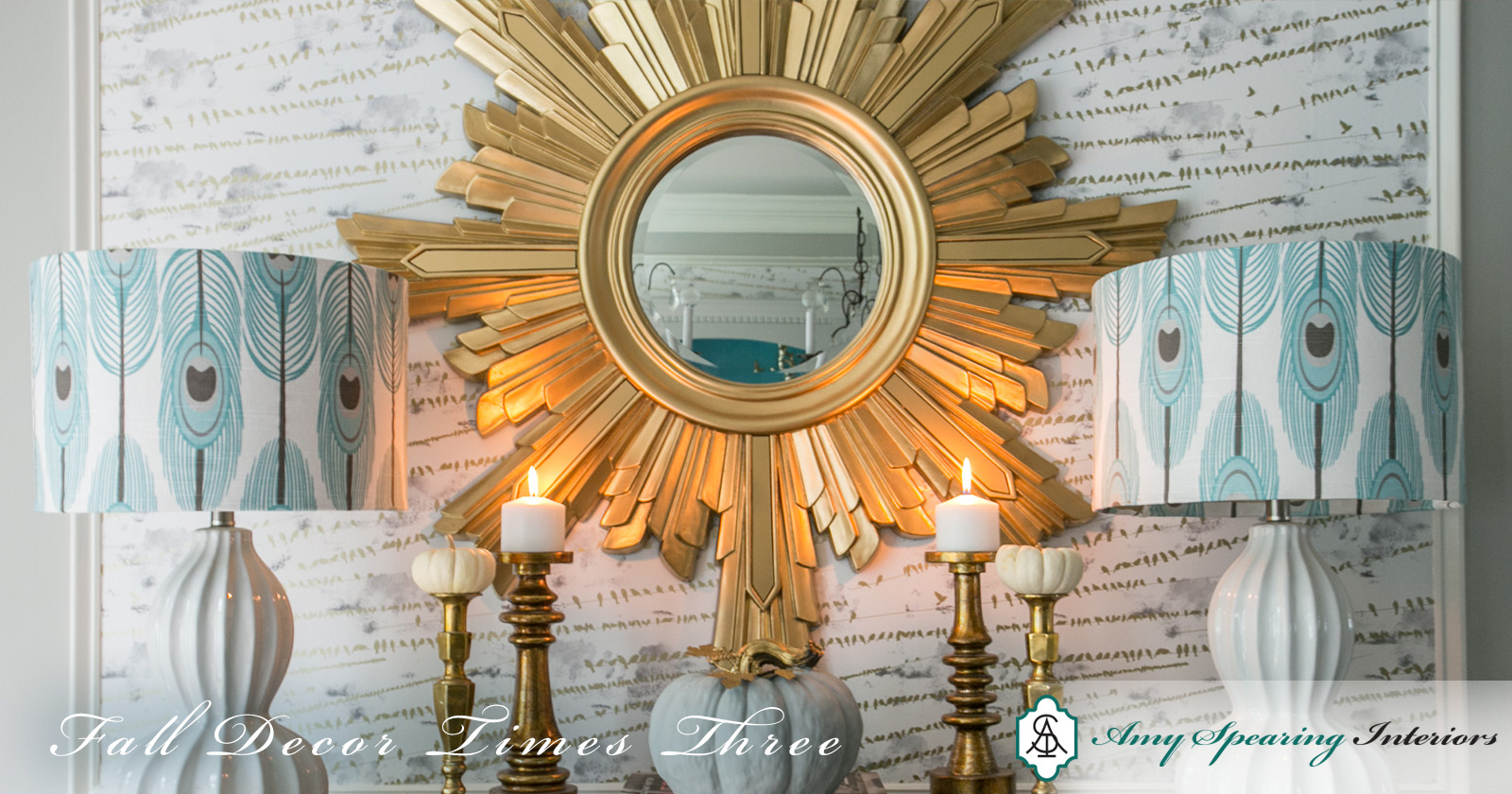 To be honest, I really wasn't intending on doing a lot of fall decorating this year. We had traveled some, I had done a lot of projects around the house, I had just finished a big client project and we were about to go out of town yet again for a quick trip to New York. It was right before we left when I received a call from a dear lady who has been helping me get published. When she asked if I was going to be doing any fall décor I replied, "of course!"
After we got back, I had three days to scramble together some ideas before my photographer came to shoot it. I gathered up everything orange I had in the house (which wasn't much), bought a couple of pillows and a throw and a lot of pumpkins. Here's the result of that rushed photo shoot:

The only things I purchased for the table scape was the copper mules and pumpkins.

I took an old cornucopia my Grandma gave me years ago, painted it with chalk paint and filled it with painted acorns and succulents.



For the living room, I added a large wicker tray to the coffee table, some new pillows and throws, and some orange tulips.

The kitchen hutch was dressed with red pears, pumpkin, cookies, and teacups.


On the back porch I added a couple of orange pillows, pumpkins, and mums.

More orange tulips for the foyer.




For the dining room and small foyer off the garage by the dining room, I stayed monochromatic with gray pumpkins and eucalyptus.

I dressed up the stairs with painted pumpkins and lanterns.

The front porch got a new wreath, pumpkins, and mums.
I sent off the photos and instantly regretted it. I knew I had only done it half-heartedly and could have done better. Suddenly I came up with all new ideas I was itching to implement. Even if it was too late for my publishing friend, I had to do it.
It took a few more purchases and planning and here's what I came up with:




The table setting started with switching out the plates to an old set of Limoges dishes I forgot I had. I bought them from the homeowner of a real estate staging project last year. I was pleasantly surprised to find the dishes had a lovely orange flower pattern.
My next find was this amazing Vern Yip chinoiserie fabric, which I used to make placemats for the kitchen table. I placed old law books on top of the placemats, then the dishes on top of the books. The silverware I tied with an animal print ribbon.
For the table scape, I laid a bed of eucalyptus, on top of which I interspersed gray and orange pumpkins and a variety of wood, marble and gold candlesticks.
I then turned my attention to the living room:

I found this great striped rug from Pottery Barn and I knew it would be perfect. I loved the shades of orange, burgundy, black and lavender. I used this rug as my jumping off point for the room. I added orange and burgundy velvet pillows and then had pillows made from the same chinoiserie fabric as the placemats in the kitchen. I also brought down the two furry stools from my bedroom since I felt it lent to the warm cozy fall vibe.
I wrapped the coffee table with a great orange and white wrapping paper I found at HomeGoods. I also found this large orange glass vase and sheath of wheat there, which I placed on the wicker tray on the coffee table.

I had already made this splatter art previously, but now I added orange and burgundy paint to it and propped it up on the mantel.

For the back porch, I added more pillows, throws and an orange ottoman.


I even dressed up this little outside space on the side of the house.

… And outside the "she shed".


And then came a call a couple of weeks later asking me if I decorated for Thanksgiving. My answer once again was "of course"! So I thought to myself, what is the difference between Thanksgiving décor and just plain ole fall décor?
I brought back the cornucopia from the first photo shoot and filled it with a variety of small gourds. Then I cleaned out the local grocery store of all their Indian corn. I made placemats out of a brown and orange fabric I already had. I found small turkey plates at HomeGoods. And speaking of turkey, I found these super cute turkeys and pheasants at Pier 1. Here's how the Thanksgiving table turned out:






I even dressed up the kitchen hutch as a dessert bar:

So there you have it: 3 different fall décor photo shoots within weeks of each other. When I call to schedule my photographer he doesn't even ask anymore…..I'm sure he thinks I'm crazy, right along with many others.
Maybe my Christmas décor will be stress free and low key…… but really, who am I kidding?
Comments
comments