The Story of my "She Shed"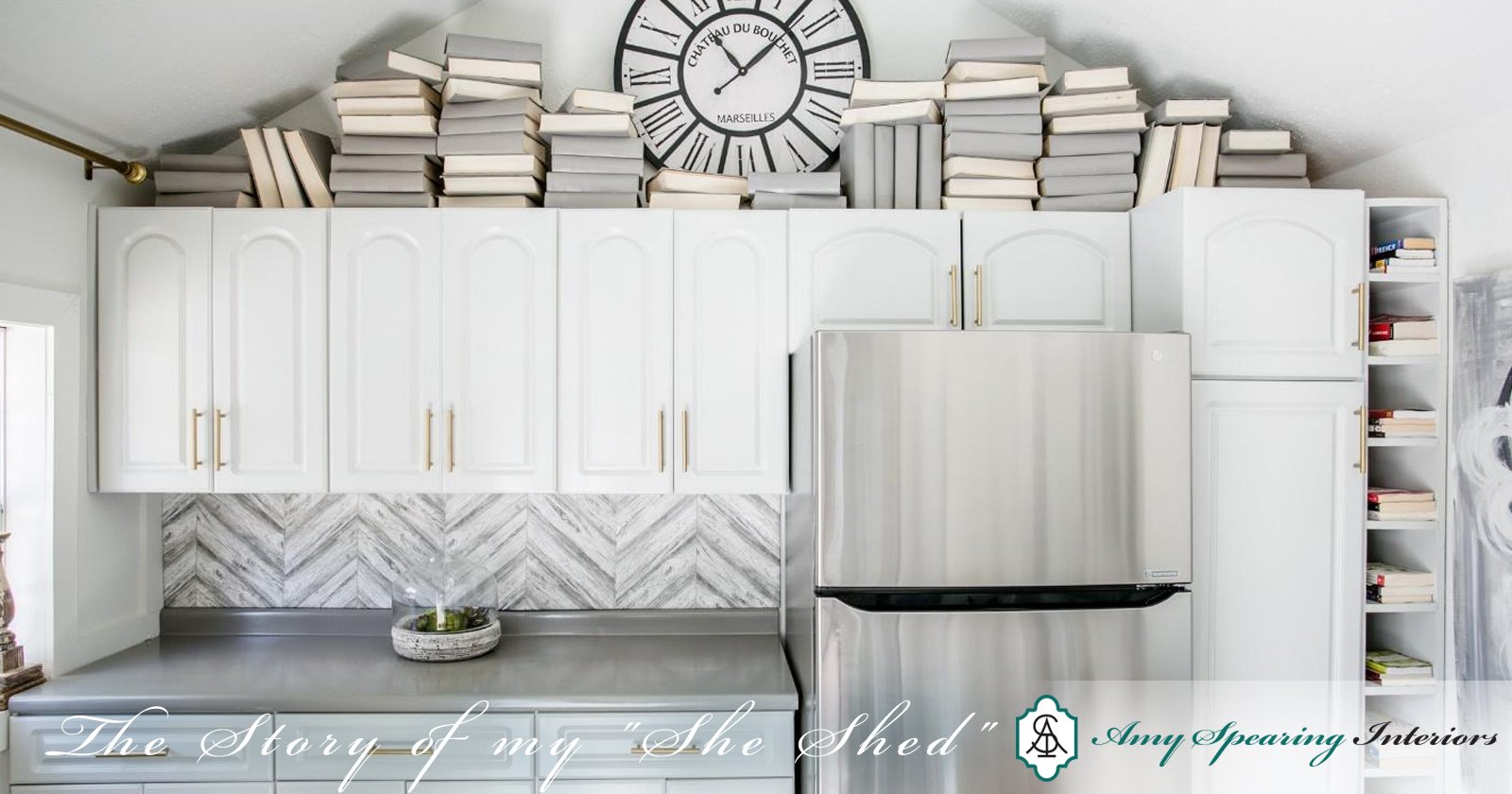 We moved into our house 10 years ago. At the time, I had two small kids and was pregnant with my third. Needless to say, the first year or so I was just trying to keep my sanity….. I wasn't trying to carve out a personal space for myself.
Years went by and I slowly got the house how I wanted it. As I'm sure many of you can relate, it will never be DONE; I am always painting, wallpapering, replacing items, moving things around and generally "tweaking" every room in the house. It's what I do when I'm not doing something to someone else's house.
It suddenly occurred to me last year that our pool house (which, honestly, is a glorified tool shed) was grossly underused. For the five months or so out of the year that we use the pool here in Virginia, I would use it to set food out for my kids' swim parties and that's about it. There was some seating in there (that came with the house when we bought it) but no one really sat in the pool house. The idea of putting food in there seemed like a good one until I kept telling kids to wipe their feet before they went in, which they never did, and there ended up being another pool on the floor of the pool house and kids would slip and fall…. It was a big mess.
Here are some photos of what the pool house looked like when we moved in and for the most part it stayed this way for 10 years:


There was a brief period of time when I tried to make it look sassy and recovered the cushions in fun fabrics. I hung up pictures of us at the beach throughout the years, which was fun to look at. I even kept the paint color the previous owners painted because I thought the aqua was cheery and I didn't want to paint those high ceilings anyway.
It hit me last August that this was probably the only space I could make my very own so I was going to do it the way I wanted. Instead of lots of food set out for pool parties, I decided I would provide the kids with a variety of individual bags of snacks that I would set on the tables outside and a cooler full of drinks they could help themselves to. That would eliminate the need for any more dripping wet feet to go in the pool house.
As I started scheming I began with the flooring. I found this relatively inexpensive product at Home Depot which gave the feel of a sort of bleached out neutral wood tone. It is a vinyl plank flooring which would hold up well to inconsistent temperatures and foot traffic:

I originally wanted it laid in a herringbone pattern but it was going to cost double the price of laying it in a staggered plank pattern. Here's how it looked installed:

We had the flooring done in September and soon afterward I started the long process of painting. What you can't see from the pictures is that the walls and ceiling have a heavy stucco texture. The previous owners had dry walled the shed themselves and applied the texture, presumably to hide any imperfections in the drywall. In a perfect world I would have liked to sand down the texture or apply shiplap over it (and I still may one day) but the thought of doing that made me want to throw up so I just decided to paint for now. I used a Benjamin Moore exterior paint (due to fluctuating temperatures) in Paper White, which I always thought was a very pale gray but which ended up looking kind of creamy once it was up. I decided to just go with it since liked the way it looked with the flooring.


I had to stop painting around October because it got too cold to paint. So there sat the glorified tool shed, half painted until spring came around. By then it was full of stuff I didn't have room for in the house….mostly porch furniture and cast offs from replacing the living room furniture. So I cleaned out the pool house and resumed painting.
Once the painting was done, I decided to paint the cabinets Benjamin Moore Brushed Silver and add modern pulls from Home Depot, which I spray painted gold. I also painted the countertop Benjamin Moore Chelsea Gray. I plan on replacing it next year with stone but I couldn't stand looking at the puke color anymore.

I then made a temporary backsplash out of foam core board I wrapped in leftover wallpaper from my kitchen.

Next came lighting. I took down the ceiling fan and knew I needed to replace it with something big to take up all of that space (I usually go big with lighting anyway). I had my eye on the Chainmail Chandelier from Pottery Barn for a week or so but I hadn't fully decided on it. On a whim, I checked it on the PB website and saw it was on super clearance….originally $600 it was now $169! I love the way it looks in the space:

My latest project was to paint a carload full of free law books my friend was throwing out and stack them randomly above the cabinets. I love how it turned out:



And here's how my "she shed" looks now:



And here's the exterior:


Practically everything I furnished the pool house with was something I already had. The Pottery Barn club chairs were previously in my living room (which I replaced with two identical facing sofas). The cowhide rug and striped curtains were also living room cast offs. My mom found the garden chairs for me at a vintage store, which I refurbished and paired with a bistro table from World Market I previously used on my porch as a side table. Where rolled up beach towels used to go in the cubbies next to the fridge, now I have a place to put my extra books.
The canvas of 'Winged Victory' is something I do often…I have a photo blown up on engineering paper at Staples for $6 and glue it to a store bought canvas. The framed art was a poster I bought at a Paris flea market advertising a Rembrandt exhibit at the Louvre. The candelabra over the bistro table once hung over my kitchen table.
I really feel this space reflects me: the books, fabrics, Paris art, neutral décor, even the old law books (I was a pre law major in college). Of course, there are still things I'd like to do…. like cover up the stucco walls somehow (shiplap? a mural?), and the pillows and lampshade aren't quite right but it will get there.
I sit out here to do work sometimes (I'm sitting out here now) or to escape the heat while watching the kids swim, and sometimes to read or catch up on emails.  I get asked if I let anyone else in there and the answer is yes…..every once in a while.
Do you have a space you've made your own? I'd love to hear about it!
Happy decorating,
– Amy
Comments
comments